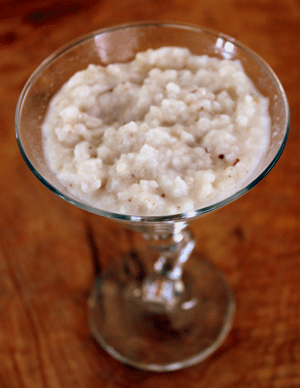 Well, we skipped our drive to Chicago this weekend due to snow predictions. So, with so much extra weekend time on our hands, we did some baking. Bella requested a favorite warm dessert, rice pudding. I was out of my usual brown rice, but I had a little jasmine, so the two of us made this sweet and incredibly filling dessert. I decided a little granola sprinkled over it in the morning would be a wonderful replacement for the texture and cool thickness of yogurt.
Gluten Free Dairy Free Rice Pudding
1/2 Cup Jasmine rice (or any pudding rice would work)
1/4 cup honey, or Monin Organic Vanilla syrup
1/4 cup raisins
1 can Thai Kitchen coconut milk
2 cups water (add additional 1 cup of water if you like a soupier rice pudding - this will be thick)
optional: sprinkle of nutmeg or cinnamon, 1/4 cup pistachios
Put rice, sweetener, raisins, coconut milk, and water into a baking dish (such as a glass or ceramic cake pan), leaving 1/4 to 1/2 inch room for bubbling. Stir ingredients. Add optional pistachios and light dusting of nutmeg or cinnamon. Bake for 1 hour.
Healthier variations:
I always recommend using brown rice over a white rice. This pudding is delicious with brown rice, too, but it does take quite a bit longer to cook. I find that I can leave it in the oven for up to 3 hours when I use brown rice. Also, when using brown rice for this dish, you'll need to use 3-4 cups of water in addition to the coconut milk. The benefit of the long cooking time is a caramelizing that takes place on the top of the brown rice version of this pudding as you remove it from the oven.
If you want to omit the sweetener, I recommend you just add more fiber rich fruit and cut back or remove the honey/vanilla syrup. The coconut milk and rice have a rich and wonderful flavor on their own, and when you add raisins and pistachios to this mix, you may find that the sweetener isn't required. I think this is especially true if you plan to top it with a sweetened granola. I had some of the gluten free Bakery On Main granola in my pantry and this is a VERY sweet granola. When adding that to the filling and rich rice pudding, I felt quite full and my sweet tooth well satisfied.
Is your rice pudding too thick the next day? Just add more water, rice milk, almond milk, or coconut water and mix it back in.