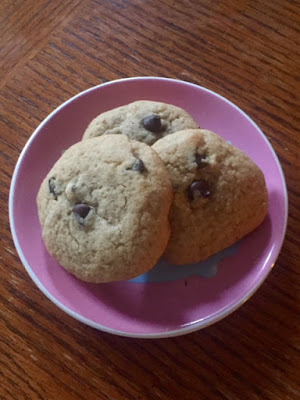 Sometimes an old fashioned cake like chocolate chip cookie is just the answer, but the sugar load that comes with it never is! This recipe helps to deliver that nostalgic flavor without the sugar guilt. The use of Swerve Confectioner sugar replacement is what gives the cake like texture, as well as the gluten free flour blend that was chosen for this recipe. Of course there are a million variations that can be used, but they will yield different texture, different amount of oil and richness, different cook times etc. I hope you enjoy this treat!
Ingredients:
1 Cup Organic Palm Shortening
3/4 Cup Swerve Erythritol Brown Sugar
3/4 Cup Swerve Confectioners Sugar
1 tsp vanilla extract
2 eggs
2 Cups Pamela's gluten free artisian blend flour
3/4 Cup almond flour (or other nut flour of choice)
1 tsp baking soda
1/2 tsp salt
3/4 Cup Lily's chocolate chips (a blend of stevia, erythrtol and monk fruit for sweetener)
Heat oven to 375 and place mixed cookie dough into 1 tsp balls 2 inches apart on a stoneware pan.
Bake for 8-11 minutes, or until edges begin to golden.