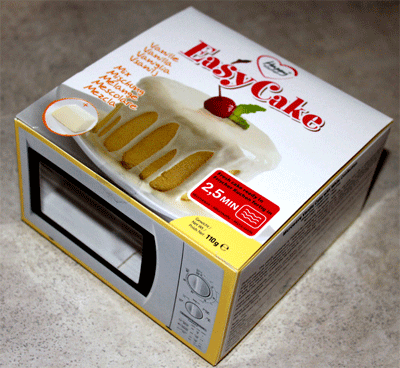 So, this is not health food. As a nutrition educator, I can't recommend this as a food item to help your health for the fact that it is loaded with sugar. Combine that with it being cooked in the microwave and I REALLY can't claim any nutritional value going on here, but what I CAN claim is that this is the cutest little packaging idea I have seen in a long time! It is so cute, I had to get one for the girls.
For $3, and cooking it in the microwave, I was not expecting much. Well, truth be told, I was expecting a warm bowl of mush, but we were all surprised when the little yellow cake rose up in it's bowl and actually COOKED in there. Who knew? The texture was warm, thick and spongy. Somewhere between a vanilla pancake and a sponge cake. It did fill up to the height on the package, and it came with a lump of white chocolate (we opted not to use this, as the chocolate contains dairy, but for those who can eat dairy, you can create the dripping frosting effect seen in the photo).
The girls topped this little cake with fruit and gobbled it down. I thought that one of these cakes was plenty for 2 people, and would have been ample for 3, when served with fruit (although, some cake lovers may disagree with me on those serving sizes).
It's very fun, very cute, easy enough for a child to put together, and the flavor was good. For a treat, I think we'll pick up the chocolate one next week.
In the area? These little cakes are available at
Advance Health
in Cedar Rapids. I imagine they will start popping up in other stores, soon!