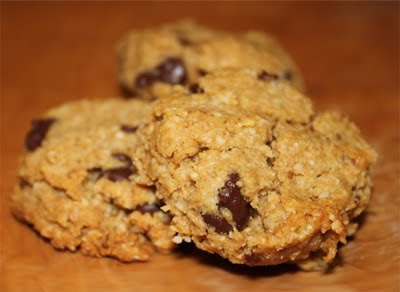 Hmm...It seems my mind is on sweets as of late. Looking through here, cookies, cookies, rice pudding. I can see I need to post a decent salad recipe again soon! I just had a delicious salad, by the way, with fresh squeezed lemon juice, cucumbers, mixed greens, and tomatoes. It tasted like summer! I digress, back to cookies and almonds. I have a fresh batch of Almond Flour and I decided to make a batch of Almond Flour chocolate chip cookies. These are a nice cookie choice for those doing an SCD or Paleo (specific carbohydrate diet - well, only if you skip the chocolate chips!) as there are no grain/starches added to this mix. The ingredients are rich, warm, and heavy! With all the natural fats of coconut, almonds, and the sweet honey we consider this a nice granola bar replacement. Besides that, it just tastes delicious!
Simple and natural
Almond Flour Cookies
. Yum.
Ingredients:
2 1/2 cups almond flour/meal (great source of
protein
)
1/2 cup chocolate chips (not SCD safe - can alternate with raisins or any dried fruit of choice)
1/2 cup second nut flour/meal or nut butter. You can put almond or peanut butter in for this step, or just grind up some pecans with a mini food processor
1/2 cup unsweetened shredded coconut or coconut flour (great source of
fiber
)
1/4 cup melted coconut oil, palm shortening, ghee, or earth balance (earth balance is not SCD approved)
1/2 cup honey
1 tablespoon milled flax seed mixed with 3 tablespoons hot water (this equals one egg)
1/2 teaspoon baking soda
1/2 teaspoon salt
Mix ingredients and press into rounded teaspoons onto stoneware baking pan. Bake in preheated oven at 325 degrees for 12-17 minutes, or until cookies begin to turn golden (check them often so that they don't burn on the bottom). Stoneware works nicely to prevent cookies from burning on the bottom in the way that they tend to with glassware.
Enjoy!

Looking for more SCD desserts? Try Laura's SCD friendly Cookie Cake next!