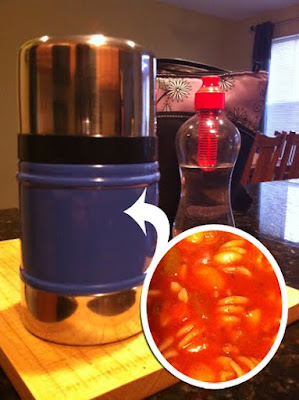 I have a standing request for this pasta soup from my 11 year old. She wants to eat this almost daily in the cold months. The recipe is simple, and hearty, which is perfect for lunches that travel!
Ingredients:
3/4 lb pasture raised ground beef or stew meat
1 onion - diced
7 celery heart stalks, chopped
1 1/2 cups chopped carrots
1 jar all natural spaghetti sauce of choice, or homemade
1 16oz can of diced tomatoes
2 cups (dry measurement) rice noodles of choice
3 cloves garlic, pressed or diced
32 oz beef or chicken stock
salt, pepper, parsley to taste
Method:
In soup pan, brown meat. Add onions and saute. While that is cooking on a low/medium heat, chop your carrots and celery. Add to mixture and cook for 15 minutes at medium heat. Add broth, sauce, spices, tomatoes and bring to boil. Add pasta and cook at a low boil for 15 minutes. Reduce heat to simmer and cook for 30 minutes more.