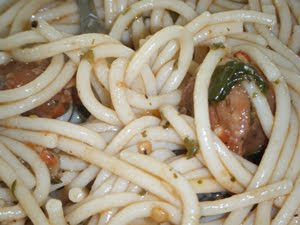 Another easy meal - two dish prep. This was a hit with the 6 year old, 8 year old, and the husband (the true test of gluten free pass-ability). Everyone loved it! The Andouille does have some heat, so be warned! But I would call it a medium spice level. Enjoy :)
Ingredients:
1 package Tinkyada Spaghetti - brown rice
1 package Niman Ranch Andouille sausage (free of added gluten, hormones, nitrate etc - purchased from local Target store)
1 package of mushrooms - cleaned and chopped into thirds - button or baby bella work well
1 medium - large tomato, skinned and chopped
4 green onion stalks, chopped
1 tablespoon olive oil - extra virgin
1 teaspoon basil (dried, or use 1/4 cup fresh if available)
1 teaspoon oregano - dried
1 teaspoon parsley - dried (or use 1/4 cup fresh / chopped if available)
1/4 teaspoon sea salt or real salt
1/4 teaspoon freshly ground pepper
1 1/2 tablespoons balsamic vinegar
3 cloves garlic, minced
3 cups spinach, chopped
Method: Bring water to boil per Tinkyada package instructions. Once water boils, add brown rice noodles and cook per package instructions. Have strainer ready and be prepared to rinse the noodles when they are cooked.
In second large pan over low heat, add oil and onions, and spices (oregano, basil, parsley, salt, pepper). While those are warming together, chop sausage and add to pan. Raise heat to medium/low and add mushrooms. Cover to speed up mushroom coking time, stirring as needed to prevent any burning. While mushrooms are cooking, add tomato, balsamic vinegar, 3 cloves pressed or minced garlic. Cover and let cook. 5 minutes before noodles are ready, add 3 cups chopped spinach to sauce pan and let cook, uncovered. Mushrooms should look cooked, but still retain some thickness and texture. All greens will be cooked and or wilted.
Mix sauce well and pour over rinsed noodles. If using a lidded container, shake the noodle and sauce mix to ensure noodles are well coated. Serve over a bed of spinach and enjoy! If you can eat dairy, sprinkle a small amount of feta or parmesian over dish before serving.
serves 6