Jam Tarts - EASY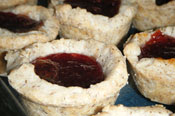 Breads From Anna Pie Crust Mix
1/4 Cup milk substitute (I used rice milk)
3/4 Cup oil
1/2 teaspoon apple cider vinegar- optional
1 jar Polymar or Organic no sugar added jam

To Begin, preheat oven to 400 degrees F and follow Anna's instructions on the Breads From Anna Piecrust mix (the only ingredients asked for are listed above - oil, milk sub, apple cider vin optional).

Press the pie crust mix into aprox 18 mini muffin tins. You don't want to make it thinner than this or it will crumble when you try to remove the finished product. This is aprox 1/4 inch thick and go up to the top of the mini muffin pans with the pie crust mix.

Bake for 4 minutes without jam filling. Then remove and scoop 1/2-1 teaspoon of sugar free jam (Polymar Strawberry naturally sweetened with no sugar added is what I used for the batch pictured). I have tried several organic brands with good outcome, but I have found that Smuckers sugar free jam did not work well for this. There must be too much gelatin in the mix because the final product is gummy and not good by comparison.

Bake for 11 minutes longer. Let cool enough to remove from pan.

These keep well on the counter, or in the freezer! It holds shape very well, and makes for a terrific send along snack for school, or a more healthful dessert.Try adding fresh cut fruit or puree to the jam, or make your own.