Disney World and Disney Cruiseline Dining October 2010: Gluten Free and Dairy Free
Captain Grille Yacht Club
Late Lunch
Our first stop for a meal after travel and we were ready for some of that Disney kitchen magic! Chef Allen at the Yacht Club was our most creative chef throughout the trip. He made this beautiful gluten free pasta dish for us.
Captain Grille Yacht Club
Late Lunch
He transformed the plain scoops of rice or tofu ice cream by adding a sugar candy treat on top. Bean truly enjoyed it.
Captain Grille Yacht Club
Late Lunch
He took the pre packaged brownie served throughout Disney World and warmed it up for me, then added a lovely sauce. This may not seem like much, but we loved the thought he put into our meal. The end result was a delight!
Captain Grille Yacht Club
Breakfast
We so enjoyed our late lunch the day prior that we came back the next morning for breakfast. I loved loved loved this dish! Chef Allen served an omelette for Bean, and this salmon and vegetable dish for myself with gluten free bread (toasted - served with dairy free butter). He also topped Bean's egg dish with a gluten free dairy free cheese. She loved it.
LeCellier
Supper
I had heard again and again that we needed to try this dining establishment, so I joined those crowds who book 6 months in advance to give it a try. We started with EnerG rolls and an oil sauce for dipping (which I requested...the rolls are a little dull without it).
LeCellier
Supper
I loved my salad. It was the highlight of my meal!
LeCellier
Supper
Bean enjoyed steak and potatoes. She is a "grown up" on the disney dining plan for the first time this year, which means her dining choices are larger in both selection and portions.
LeCellier
Supper
I had salmon with a maple glaze. The maple was too sweet for my taste with the salmon, but it was cooked nicely. My overall consensus was that while this was good, it didn't live up to the hype. I prefer Coral Reef for a sit down dinner at Epcot.
Crystal Palace
Breakfast
Our family favorite is to dine at Crystal Palace for 8:05 seating, before the park opens. We so enjoy this that we make a point to do it each trip. As always, the food was amazing. I don't know the secret, but they manage to make breakfast my favorite meal of the trip time and time again. This is Bean's plate and she has a dairy free gluten free whipped topping. Who knew?
Crystal Palace
Breakfast
In addition to this, they brought us rice milk and gluten free waffles.
Ohana
Supper
Another restaurant we were told we just HAD to try, so on our 5th trip (or is it 6th?) we finally did it! This is another establishment that requires early reservations, which was evident by the LONG lines of hungry (and grumpy) people waiting to get in. Luckilly, we made reservations 6 months prior. The meal was a lot of fun. The chef brought Bean out this meal that was all gluten free and dairy free. We had a really nice time and I can see why people enjoy Ohana so much. Everyone is in a good mood here, and there is no rush at all. We spent nearly 2 hours at this meal and it was a great experience. The kids left with leis to wear and smiles on their faces.
Ohana
Supper
Our dessert was transformed here, too. This is such a nice touch when every dining establishment serves the same brownie, ice cream and cookie (gluten free dairy free).
Hurricane Hannah - Quick Service Poolside Yacht Club
Lunch
While enjoying the AMAZING pool at Yacht Club during our stay, we had quick lunches here. The low allergen choices were hot dogs or burgers with EnerG buns, safe fries, and cookie/brownie. Grapes and Carrots also available. Kid meals would come in buckets like these when they were available. We got them to take with us on the cruise!
Disney Wonder Cruise Triton's
Lunch
Meals are all included when you are on the ship. We opted to eat lunch here, as it was not at all busy. My appetizer was not what I ordered, but it was fine. Dairy free and gluten free. No problem.
Disney Wonder Cruise Triton's
Lunch
Bean declined the gluten free bun for her burger and fries.
Disney Wonder Cruise Triton's
Lunch
My chicken dish was fine, but bland. After the truly amazing chefs at Disney World, I have been spoiled! The Cruise Line did a great job bringing safe foods, but they were pretty bland and they would have been so much better with a little sauce, spice, or oil blend.
Disney Wonder Cruise Triton's
Lunch
While everyone else had strawberry shortcake and lava cake, our only option was plain rice dream or tofutti. Ok, but I paid extra for some espresso to put on top of mine...for some flavor!
Disney Wonder Cruise Animator's Palatte
Supper
Salad...fine.
Disney Wonder Cruise Animator's Palatte
Supper
Bean enjoyed her steak. Potato could have used something for moisture.
Disney Wonder Cruise Animator's Palatte
Supper
My chicken dish was fine, but again could have used some flavor or sauce.
Disney Wonder Cruise Parrot Cay
Supper
Interesting appetizer that worked for our allergies. It was also a little bland, but it was very pretty.
Disney Wonder Cruise Parrot Cay
Supper
Bean really enjoyed her steak and the gravy. She doesn't get a beef gravy very often, so that was a treat for her.
Disney Wonder Cruise Parrot Cay
Supper
This chicken meal was better, as the chicken had some spice rub, which I liked.
The breakfasts on the boat were pretty good with plenty of fresh fruit and denver egg mixtures with or without potato.
All in all, Disney World wins for best food for the gluten free dairy free crowd, but there is still AMPLE food to choose from on the cruise
ship. Much more then what I pictured. There are always choices of fresh fruit, fresh vegetables, hot dogs and hamburgers without buns, plus drinks. The dinners all have rice dream or tofu ice cream and EnerG rolls (though we did not receive anything to put on our rolls). There was rice milk on the ship, but it was never in a location accessible without putting someone out. The calling and letting them know in advance of our allergies didn't seem to make much of a difference. The process was still not as smoothly run as it is in Orlando, but they do a better job than most restaurants we have to choose from locally. On the Castaway Cay island, there was chicken, chips, fruit, potato salad and hot dogs to choose from.
In addition to these great meals, we also dined at the
Epcot Food and Wine Festival
(only a little bit there, but it was fun and yummy!)
We ate at
Biergarten
again and it was delicious, as always! That is a family favorite. LOVE the salads and sides!
We did a quick service of
Backlot Express
at Hollywood Studio, which was good for unplanned quick service food. We tried the
Coke Slushies
on a hot day and we ate at the Yachtsman Steakhouse again (very similar to last time - see below).
Please post if you have any questions!
Disney World Dining May 2010: Gluten Free and Dairy Free
Pop Century Food Court
Breakfast
The chefs here have ample gluten free ingredients to pull to ensure you and/or your little ones don't go without all those fun treats. They made gluten free, dairy free Mickey waffles on a dedicated waffle iron. They also brought out pure maple syrup. They were quite good. We had rice milk to drink, and fruit on the side.
Crystal Palace
Character Lunch
We ALWAYS love Crystal Palace! They do such a great job with the low allergen foods. I had some delicious salads. The rice noodle dish had gluten, but everything else on my plate was gluten free as well as dairy free. Bean's potatoes had dairy, but her other items were all dairy free/gluten free. For dessert they brought out the same fabulous gluten free dairy free brownie from previous posts (see photo below) as well as rice dream ice cream for Bean. We all enjoyed our meal, yet again.
Cape May Cafe at Beach Club Resort
Character Breakfast
Our first impression of Cape May was...WOW it's LOUD and chaotic in here! It seemed that it drew an even younger crowd, overall, then Crystal Palace. Maybe that is partially because it's in a resort hotel? That aside, the food was delicous. I had potatoes and eggs with salsa and rice milk to drink. It was all very yum. Bean had eggs, meats, fruits and Mickey waffles as well as rice milk to drink. She loved her breakfast. The kids enjoyed the character interaction quite a bit, as well.
Our service left something to be desired, but it was okay. One thing to be aware of: if you are celebrating and you let your service staff know, they sometimes bring out a cupcake for celebration. The problem is that we have had multiple staff members hand our daughter regular wheat flour cupcakes. They know she has allergies, but they just don't think of it when it comes to the end of the meal and they are delivering their treat. This has happened 3 times, and none of the places offered her a low allergen dessesrt. They just left the allergen dessert at the table. This waitress said "Oh, you can't eat that, but Happy Anniversary, and you will have to write in your tip because it's not included". Yeah, really. But still, we enjoyed the meal very much and the chef was helpful and friendly. I can recommend it, and especially if your little ones want some face time with Minnie, Donald, or Goofy.
The Wave
Contemporary Resort
We decided to do a late lunch here after a Magic Kingdom morning. It was an easy ride over on the monorail and a nice opportunity to cool off and eat in a quiet place. Bean had a gluten free pizza, but it was not dairy free. It was an Amys pizza. Amy's does make a good dairy free and gluten free pizza with the soy free Daiya cheese, but we just brougth enzymes for Bean for this treat. She so rarely has pizza! I had a vegetable stew that was dairy free. It was very good with nice flavors, although I should have ordered something cooler for such a hot day. For dessert, Bean had a dairy free ice cream and I had the sorbet trio (dairy free/gluten free). I truly loved the pineapple flavor, although I didn't care much for the other two. I was so full, it was more of a final tasting, which worked out fine. We enjoyed our meal. It wasn't a favorite, but I would still recommend it for anyone on dining plan 1 table service credit. It's easy to get in on short notice, and it was pretty quiet for a Disney restaurant.
Main Street Ice Cream Parlor
Snack
While the options are pretty limited, they do have dairy free ice cream and root beer, so we used our snack credits and cooled off with some Toffuti vanilla ice cream floats. They were wonderful on a hot day, and quite a treat (we don't drink soda often, so a root beer float is pretty fun for the kids).
Artist Point
Wilderness Lodge Dinner
We have dined here 3 or 4 times, and not really because it's our favorite. We have always been taken out to eat here by family members, which is very kind of them. I must admit, though, that 3 of the 4 times I have dined here, I did get a tummy ache. I can't figure out why, because my food does seem safe. I had a chicken dish over rice with broccolini. The vegetable was overcooked, which was disapointing, but the rice was seasoned well and the chicken was divine. I was too full for dessert, so I skipped that.
Bean had a burger with a second plate of toppings. She had a lot of fun building her burger. She loves tomatoes and pickles, so this was a good one for her. For dessert, the chef brought her the white chocolate Mickey puzzle with edible paints. She adored being able to eat that It was gluten free (may have had dairy, we did not confirm). This normally comes with 2 large cookies, so we had those sent out on a second plate and we gave those to others at the table. This dessert is very fun for the kids, very creative. Bean mixed her paint colors to expand the choices, and then she painted and signed before eating. The SteakHouse at Yacht Club had the same dessert. These are 2 table service credit meals. I thought it was good, but the atmosphere is what makes this worth more, and not the food. The food did not taste better than the food we get at Coral Reef, and that is a 1 table service choice. If you are looking for a quiet place to take a group on short notice, though, this is a nice choice.
Yachtsman Steakhouse
Yacht Club Resort Dinner
First, I am not a steak fan, and I had salmon already for 3 meals, so the menu left me very little to choose from. BUT I wasn't very hungry, either. I asked the chef for dairy free pasta with olive oil and spinach. He offered a mediteranian vegetable medley over pasta, dairy free. It was delicious. It was my favorite meal of the trip! Now, these noodlels are not gluten free, but you can certainly get the same dish with gluten free noodles. I just loved it. Very simple, very satisfying. We also had rolls and I asked for balsamic vinegar and olive oil for dipping. Bean had steak, which she does love. She enjoyed the carrots and potatoes. Her mashed potatoes did contain dairy, but you could substitute for a dairy free alternate side. She enjoyed her meal, considerably. I was so craving this pasta salad, I made one the day after we got home. Yum!
Disney World Dining Oct 2009: Gluten Free and Dairy Free
Coral Reef
Late lunch at Epcot's Aquarium themed restaurant
Lunch started with the wonderful atmosphere and beautiful sightings of aquatic life in the larger than life aquarium. We all love the experience of dining at Coral Reef!
The last time we dined here, we had a wonderful garlic infused balsamic dip for our tapioca rolls, but I was informed they no longer have this.
I asked for gluten free/dairy free rolls, anyway, and some olive oil with balsamic vinegar to dip. This was still quite good. For my meal, I ordered a tilapia dish over greens and beans.
It was so good, but VERY salty! I almost thought they may have made a mistake with the salt, but as a salt lover, I managed to eat it without
trouble. This was Bean's last year ordering from the children's menu. She had grilled chicken, steamed brocolli and mashed potatoes. It was very bland looking, but she seemed to like it.
Since she was dining on the disney dining plan, dessert was included with her meal. They brought her a dairy free ice cream with sprinkles. Another delicious meal at Coral Reef.
Backlot Express
Counter service lunch in the Hollywood Studios park
After watching the Jedi Training Academy, we found ourselves next door to the Backlot Express. I had not read about this place, but I decided to try it. Even at 12:30 on a Saturday, they were not very busy and we had no trouble finding seating.
The girls settled with their toys at the table with dad while I waited. The counter service waits do take a while with the special allergy requests.
The longest I have waited for a meal has been an hour. The quickest has been 15 minutes. Because of the long waits, I prefer table service dining, but we were taking advantage of the dining plan this trip, and doing both.
Here they had a gluten free dairy free chicken tender/nugget, baked fries, and EnjoyLifeFood cookies. Not a health food meal, but quite a rarity in our dietary selections. In fact, this may have been Bean's first chicken nugget?
She liked it. She didn't eat them all, but she did enjoy her lunch.
Casey's
Counter service supper at Magic Kingdom park
We entered Magic Kingdom for the Halloween Party right at 5pm. We decided to get a quick meal out of the way so we didn't have to miss any of the party fun for a sit down dinner. This was our first time trying Casey's. They had changed their hot dogs from all beef dogs to a new blend of meats, but after checking with the food service department, we found out that they are still gluten and dairy free.
Bean ordered a hot dog with a tapioca gluten free bun, grapes, and a brownie. Water to drink. She seemed to like this. There were condiments, although she opted not to eat them. So, it was quick and easy. I am not a fan of hot dogs, so I passed on this meal.
Liberty Inn American Section of Epcot
Counter service lunch at Epcot
The Food and Wine Festival was in full swing, and I would have loved to partake, but there was nothing to display allergens (hopefully this is something they will add down the road).
So we went to the America quick service restaurant where the food was well noted to be safe. This meal took me about 45 minutes from start to finish to order and receive. That is a long time to stand at a counter service window, and especially if you have hungry children in tow!
Still, they were able to make some hamburgers on gluten free buns, with vegetables, grapes, water bottles and the oh so yummy cookies from French Meadow Bakery (mmm).
Sitting outside on a beautiful day, it was very nice. Just keep in mind that it's best to arrive early and have a backup person to entertain the kids for you while you wait!
I should add, part of the reason for the wait was because there was not a manager on the floor when I arrived. That added some time to the wait. This is out of the ordinary, as there always seems to be someone there promptly. When
he did arrive, he was extremely helpful.
Maya Grill
Breakfast buffet within the Coronado Springs Resort
If you have read my dining reviews, you'll know I love the CSResort, but I am beyond disapointed with their counter service dining choice.
This trip, we decided to try the Maya sit down version. It did prove to be much easier to order, although the flavors were just lacking. Breakfast at
Crystal Palace and Tusker House both have much more flavor in the eggs and potatoes. Some salsa would have helped. The food was very bland, but it was quick and convenient.
Again, I cannot really recommend eating here with allergies, but if you are in a pinch, you should be able to find something for breakfast. There was a large assortment of fruit, scrambled eggs, and meats.
Jiko
Fine dining dinner within the Animal Kingdom Lodge
Jiko would be a 2 TS restaurant on the Disney dining plan. The food was really lovely. We ordered salads, and my salad was so delicious! The girls loved the flowers on top.
Bean had a steak with fruit and 2 vegetable sides. This was a wonderful meal for her, and she enjoyed it very much. She said we should ask for the recipe for their steak preparation, because it was so good.
My husband and I both had beef short ribs with yukon potatoes. I am not certain if this dish was gluten free, but I know it was dairy free (I did ask for clarificaiton on that).
The chef recommended this, so I thought I would try it. It was also very good. My husband reports that for those wanting this tender beef short rib dish that almost the exact same dinner is served at Coral
Reef for 1 table service credit instead of 2. I was beyond full when it came time for dessert, so I passed on this. Bean was able to choose between a rice dream or raspberry sorbet. She chose a small amount of each, and she liked that.
This was very good. I would be inclined to come back, order salads, drinks, and split a dinner with my husband, as the meat servings were so huge!
Crystal Palace
character breakfast at Magic Kingdom park
Again, for those of you who ready my reviews, you know how much I love Crystal Palace! I do believe it is my favorite Disney restaurant. I just love the food, and the options for our allergies! The location is wonderful, too. And the characters are icing on the gluten free cake!
We started here for breakfast before park opening. We had the regular; eggs, poatoes, berries, melon, salmon, bacon, the list goes on...
They are one of the few restaurants that serve rice milk, so I enjoyed a glass of that with my coffee. Bean enjoyed a glass, too. It was just so yummy and we enjoyed ourselves, as always. Our servers have been consistently helpful here, and the chefs are always charming and attentive.
Bean ordered her usual gluten free pancakes, which she devoured. She looked up at me with guilty eyes as she confessed that their pancakes are better than mine at home and we need to get the recipe! LOL
That is okay. They probably use sugar and white starches, where as for day to day eating, I use a blend of gluten free whole grains to add some fiber and nutrients to the meal! For vacation, though, we splurge.
Crystal Palace
character lunch at Magic Kingdom park
On our last day, I booked our breakfast and a late lunch at Crystal Palace to save myself the hassle of standing in line at counter service. I didn't have a backup adult with me for the lunch meal, so this worked out great. The kids had fun, yet again.
I was in love with the cucumber ginger salad! That is something I will have to try to recreate at home! Bean loved her choices as well. I loaded up with vegetable dishes, she opted for meat
with salads and pickles. I asked the chef if he was able to make me a serving of the salmon, without the gluten and dairy. He said he would see if there were any that were not marinated.
He brought Bean out some steamed brocolli and he brought me out the most delicious salmon! It must have been pan fried in olive oil on each side, which gave it a nice crisp texture and beautiful flavor.
I just loved it! And Crystal Palace takes the cake when it comes to gluten free dairy free dessert. Their homemade brownies are sinfully good!
Another rave review for Crystal Palace. Even if there were no characters here, I would go back again and again.
Disney World Dining Dec 2008: Gluten Free and Dairy Free
1900 Park Fare
character dinner at Grand Floridian Resort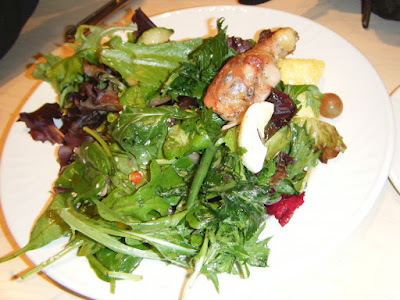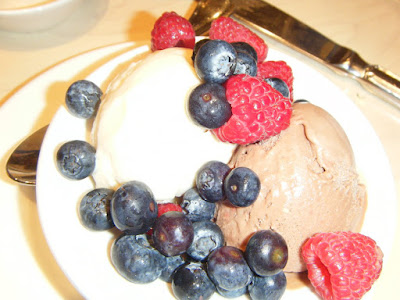 We had been here before and we had a great time. This time, we had a bad experience with our service, but good food and good time all in all.
The chef came out promptly, as per usual, but for some reason, there was nearly an hour delay in getting food out to my daughter.
Meanwhile, the rest of our group had finished eating and my daughter was sadly looking at her plate wondering why her rice pasta, veggies and meats were
still no where to be seen. When her food finally arrived, she did enjoy it, and the rest of the interactions here were very fun. The manager did not charge us for her meal, due to the extreme delay.
Akerhaus
for Breakfast at Epcot - Norway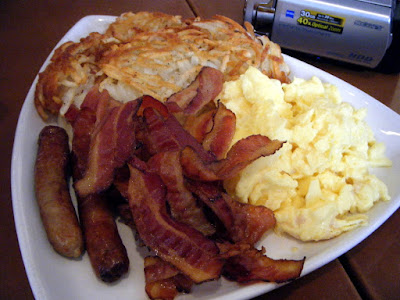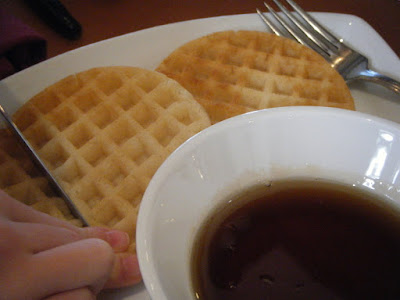 We had a fabulous time seeing the princesses at this character meal. A photo shoot was even included with princess Belle. As you can see, we had plenty of food to choose from.
The two people with the same gluten and dairy allergies shared the two plates you see, while the rest of the group ate the regular menu off of a shared platter, family style. We all enjoyed ourselves and we had plenty of choices.
In addition to what is seen, we had a fresh fruit bar, with melons and berries to choose from. It was a fun treat.
Cantina-Mexico
for lunch at Epcot
We were disapointed to find the chips were not gluten free here, as we hoped for a chips, salsa, and avocado snack. Instead we shared a salad. It was fine, but nothing to come back for.
Biergarten - Germany
for Supper at Epcot
We were well taken care of here, yet again. Same foods as last year (scroll down for picture). Above, you can see we had EnerG rolls with olive oil and garlic, gluten free dairy free brownies, and a berry gel dish for dessert. We enjoyed the food and the music.
Crystal Palace
for Breakfast at Magic Kingdom Park
As previouslly posted, this was very good, very fun, and prompt. We had gluten free waffles, fruit, dairy free eggs, bacon, and even a box of rice milk for my tea.
We will continue this breakfast tradition when goin to Disney World. They handle our allergies very well.
Artist Point
for Supper at Wilderness Lodge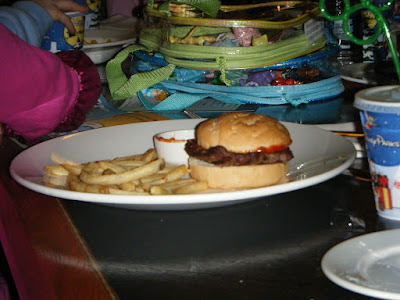 While the burger with gluten free bun and fries made in a dedicated frier may not seem very exciting, it is a rare treat for my daughter (something we do not make at home) so she was pleased.
I had a fabulous dish that was a blend of navy beans, chorizo, chicken, and greens. It was quite possibly the best dish of the trip. Dessert is lacking across the board in Disney World. The only option most places have for us is a brownie (pre packaged, even served in the package) and rice dream ice cream. That is fine. We enjoy places that have an additional option, but this was not one of them.
Great meal, fabulous service and wondeful atmosphere. Their menu lends itself well to gluten and dairy free dining.
Rosies Cafe
for Lunch at HollyWood Studio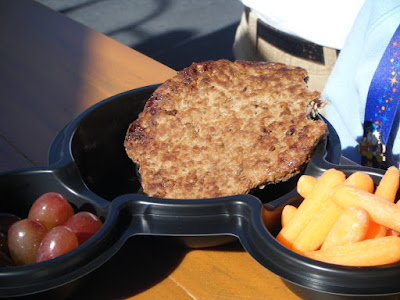 We ate a quick lunch here, hitting the stand at 11:15am to avoid the rush. They had a gluten free bun option, but it would have taken longer (wasn't at location) so we opted to skip it. This was not very good, but it was food, and it was safe. That is about all I can say for it, however. I would not recommend this stop. In addition, I found it stressful to order a special request diet at the stand when there was a line forming behind me and I was holding up the show for everyone while we waited for a manager. There was only one cash register operating at the time, which added to my stress over the meal. Again, it was food, but that is all I can say about it!
Brown Derby
for Snack at Hollywood Studios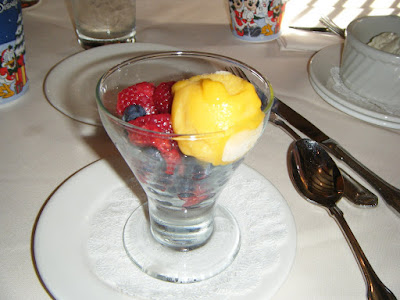 We were able to stop in without a reservation for dessert. Perhaps my favorite dessert of Walt Disney World for our allergy requirements is found here. It's the Mango Sorbet with berries. It's delightful! I asked for a specialty coffee drink, but they did not have any rice milk or soy milk. This surprised me! Eventually they discovered they had rice dream and they used a bit of that to make a nice drink. It was a good snack.
The Grand Floridian Cafe
for Supper at Grand Floridian Resort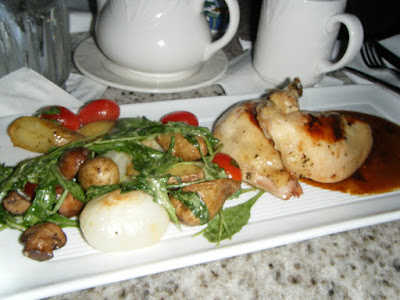 This is a lovely resort. We had a very nice meal. My daughter enjoyed filet mignon with fresh steamed greens and gluten free potatoes. I had the above pictured chicken with potatoes, onions, greens, and tomatoes. All was dairy and gluten free. The service was very slow. The meal took nearly 2 hours. Still, it was good and we enjoyed ourselves. We always bring along toys for the children when dining in Disney, as slow service abounds within these very busy restaurants.
Crystal Palace
for Lunch at Magic Kingdom Park
Like breakfast, we also enjoyed our lunch experience here. It was mostly buffet food, with one item being cooked safely for my daughter by the chef. The chef also brought us a freshly made brownie, which was a step up from the pre packaged brownies we'd received all week. She served these gluten free brownies with a whipped cream, which she told me was dairy free, but I did not know for certain, so I avoided it. I have never seen a gluten free dairy free whipped cream that looked as good as what she served me. I wondered if she misunderstood my allergy? Or maybe there is just a new product on the market. Either way, I was afraid to try it, so I enjoyed the brownie and berries with tea and honey. It was a nice (although loud) stop for lunch.
Hollywood and Vine Fantasmic Dinner Package
for Supper at Hollywood Studios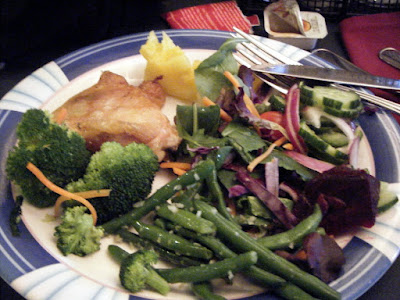 This was a buffet diner. Because of the condition of the buffet, I opted to ask for our food to be prepared in the back (there was way too much obvious cross contamination here, globs of food dropped in the wrong places throughout). The chef made me a delicious salmon, although it took a very very long time. The group was done eating and ready to go and we were still waiting on steamed greens and salmon.
If you are not in a hurry, though, the chef can prepare some wonderful food for you here.
Coral Reef
for Supper at Epcot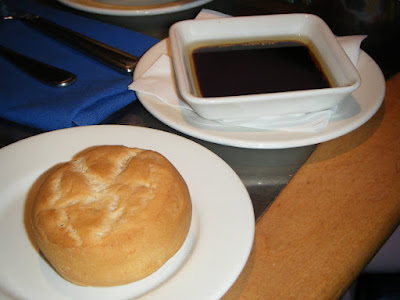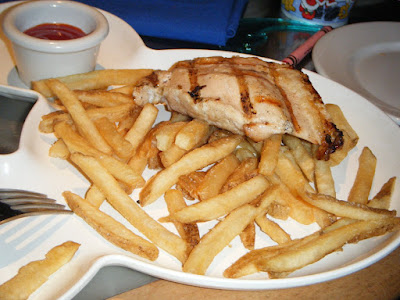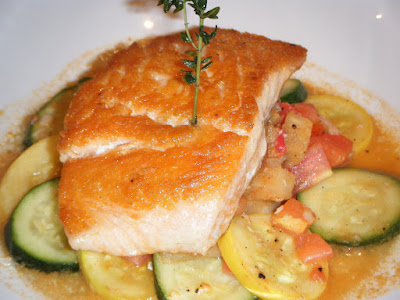 We had a reservation, but we still had to wait aproximately 40 minutes. It was late, and that was a bit upsetting, but even with the delay, this was
voted the favorite group restaurant of our trip. We had a wonderful table in front of the aquarium and the food was delicious. My salmon was prepared almost perfectly with a wonderful vegetable medley. The infused oil and vinegar dip for the rolls was a very nice touch. My daughter's dish was nothing too fancy, but she was still satisfied. I would have preferred she had a salad option or other vegetable choice, but fries is what came out with this one. For dessert we had berries with tofutti. There is some controversy about the vanilla or "e" in this product and if it is or isn't truly gluten free, so you can take that into consideration beforfe ordering. We feel safe with this brand and we truly enjoyed ourselves here.
Olivia's
for Supper at Old Key West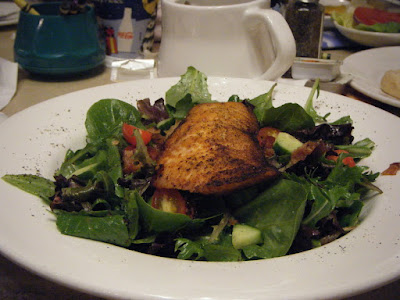 We decided to try this dining establishment for something new. It was a lovely place to visit. We enjoyed the family diner feel and the atmosphere of the resort. The food was typical - salmon, burger, gluten free rolls, salads. Nothing was very good. Everything was just fine. There seemed to be some creativity lacking in the kitchen.
Still, we did enjoy ourselves and our meal.
Tusker House
for Lunch at Animal Kingom Park
Another buffet, but this one had different choices. The variety of roots and vegetables was much better then what we had found at other places. We really enjoyed this lunch. The only negative was the curry, which I was told was dairy free. It did bother my stomach, and my husband's as well. Everything else was delightful. Dessert was a gluten free brownie.
Whispering Canyon Cafe
for Supper at Wilderness Lodge
I have to admit to being very unhappy with this dining experience. They were very slow in helping with our special allergy requests, here. The chef was casual to the point of worry. I asked if something was gluten free and he answers with a "more or less...it has a modified starch, but it's probably fine"...umm...probably? No, that doesn't fly in my book. The waitress, while friendly, was terrible. She was so slow and she messed up our order 3 different times. In the end, I did not pay for my meal or my daughter's, as they were repeatidly brought out wrong and then billed incorrectly. To top it off, the chicken was very strong in rosemary flavor, to the point of being over powering, which I did not even enjoy. Not a repeat for me.
Still, the atmosphere was very fun and festive!
Disney World Dining Dec 2007: Gluten Free and Dairy Free
1900 Park Fare
character dinner at Grand Floridian Resort
The Chef offerred to make us a special dish or let us choose from gluten free dairy free choices on the buffet.
My daughter loved the fresh fruits and veggies. I adored two wonderful salads available and the chicken from the kids station!
There was one salad in particular that I adored. It was a mouth watering blend of greens, beans, tomatoes, olives, oils, and delight. I loved it!
The chicken was just perfect and only seasoned with salt and pepper. Yum yum yum.
And for dessert, Toffutti ice or Rice Dream cream was available (we don't eat Toffuti at home, and someone emailed me to let me know there is
controversy about if the Vanilla used in Toffuti is actually 100% gluten free, so do check on that before you consume!).
The atmosphere was loud and busy, but it was worth it! Everyone had a great time, and full belly.
Crystal Palace
for Breakfast at Magic Kingdom Park
Delicious! We loved the food choices here. Yummy fruits, fun atmosphere, delicious potatoes! The eggs are dairy free. Great!
The Chef Brought out gluten free dairy free pancakes, which my daughter loved.
Whispering Canyon Cafe
dinner in Wilderness Lodge Resort
Again, loud and crowded, but the food was very good. The chicken was tender and delicious. Dessert was nothing too special (Itzakadoozie pop).
But did I mention how good the chicken was (second chicken pictured below...I didn't actually taste the kids grilled chicken)?
Tusker House
breakfast in the Animal Kingdom Park
This was...loud and crowded, yet again, but good. The chef treated us...see next picture
This was our cutest display of gluten free pancakes on the trip! Sadly, they didn't taste very good, but with all that pure maple syrup and
cherry topping, they got eaten up! That was a very nice surprise.
Artist Point
dinner in Wilderness Lodge Resort

I had the Market Salad and Salmon. It was delicious. They were very attentive to my restrictions. I did, however, get sick this night.
I can't say for certain if it was from the meal or something else. They seemed to be doing a very good job of keeping the allergens out!
There were only packaged gluten free brownies for dessert. But the atmosphere was my favorite of the trip. Much quieter, beautiful paintings,
fun and knowledgeable wait staff!
Brown Derby
dinner at Hollywood Stuidos Park
The chef here was just great. He brought my daughter veggies, which she loved, as a perfect starter.
He brought us the EngerG rolls, warmed, and served with fennel infused olive oil to dip our bread in! YUM!!! What a great idea, by the way!
The chicken was disappointing. It was very dry. The potatoes and sweet dressing on them were very good, though!
My daughter had a hot dog and french fries. The bun is gluten free, dairy free.
Brown Derby served my favorite dessert of the trip...a cup of berries with homemade dairy free mango sorbet! Delicious!
My daughter also loved this sorbet.
Biergarten
lunch in Epcot World Showcase
DThis surprised me because I didn't expect to like it. I only booked it because I knew my husband would LOVE it.
Well, it was my favorite meal of the trip! I adored the salads! The red cabbage salad and the tomato onion salad were my favorites.
The fruit gel for dessert was nice. It was a terrific meal. My daughter ate mostly hot dogs (although I am sure they had another name).
We all ended up stuffed! She also had a packaged brownie for dessert.
Kona Cafe
dinner at Polynesian Resort
Here we had the worst service of our trip. We checked in at 5pm and then they forgot us. At 5:30 we went back and they said "whoops, sorry!".
That was just the beginning...All through dinner, the service was awful. Slow, rude, unprofessional. This was NOT what I expected from the
Kona at the Poly! I am hoping we just caught them on an off night (I had heard so many wonderful reviews, that I think this must be the case!)
. The chef we worked with was not anywhere near as creative or helpful as any other chef we talked to on Disney property. He basically brought
us the bare bones. I asked for rolls, and we get a basket of them with nothing to put on them. The salad is torn down to just lettuce,
the chicken, while it looks delicious, was terribly dry and bland. The only good thing was the side salad with dinner (on the plate below)
and the non dairy ice cream for dessert!
There was one other good thing, my daughter liked her rice noodles. She didn't like her chicken, and she didn't eat anything other than the noodles, but at least she
liked them!
There is my dish. The side salad with almonds was very good. The chicken was just dry as a bone.
Cosmic Rays
Magic Kingdom Park:
Long line, long wait IF you arrive after 11:30am for lunch, but decent counter service food.
We had a salad and a hot dog with no bun. We had to speak to the manager and wait aprox 8 minutes for a fresh batch to ensure no contamination.
We had apples that were pre cut and bagged. They had a gross synthetic flavor. The fruit flat was good, and the carrots were good.
Pecos Bills
Magic Kingdom Park:
We learned our lesson and went early. Everyone was happy! No wait at 11am. We had burgers and we opted for no gluten free bun this time
(although they did offer us a gluten free bun). We had carrots and grapes. The grapes tasted weird to me (again, synthetic flavor).
We also had applesauce, which was good.
Pepper Market
breakfast Coronado Springs Resort
Hands down the WORST experience of our two trip. We ate there 3-4 times and each time was awful. The manager, hosts, and wait staff just refused
to help us with our dietary restrictions, and the chefs were just too busy and uneducated to provide us safe meals
(for example, handed me bacon that was sitting in a bowl of bread, went to put the batter in a gluten cooking waffle iron, stuff like that).
When I asked for help, I was treated rudely. One woman actually threw her hands up in the air and stormed off, shaking her head, when I asked
her where I could find something that was held behind a counter. The manager barked a rude command at a host, totally ignoring me, when I asked
him for help with our allergies. This restaurant is not run by Disney and it shows. This is the only NON Disney run restaurant we ate at, and the only place we had these problems. We do love the resort, but next time we stay there, we will plan our meals eleswhere.
The Grand One Yacht Cruise:
If you take a cruise, be sure to bring your own drinks. There was no running water, nor were there any beverages to buy, so we had a two hour drive
with gluten free cake and nothing to wash it down! Just come prepared and enjoy the luxury.
Main Street Bakery:
We got the Rich's brand of gluten free dairy free chocolate chip cookies. They were VERY crumbly!
I am amazed they hold their shape on the stand! But the taste is good.
We also got the pre packaged Rich's brownies, which several restaurants had served us. They are good. Not as good as the freshly baked
brownies that we had on our last trip, but better then Itzakadozee all week long!
Disney World Dining Jan 2007: Gluten Free and Dairy Free
Boma
: dinner Animal Kingdom Lodge
The Chef offered to make us gluten free pasta, but I declined because there were 6 other people in our group who would be eating buffet right away and I didn't want to have two of us sitting and waiting. Next time I may think to call 10 minutes ahead for the gluten free pasta!
There were many choices for myself, but not so much that my daughter loved. Many of the foods were too spicy for her, although I enjoyed that.
The coconut salmon, potatoes, and mango vinaigrettes were my favorites here. I have read wonderful reviews of what the chefs will do for allergy restrictions at Boma, so do take your time to find out!
The Dessert was a sorbet. She enjoyed it.
Crystal Palace
: breakfast Magic Kingdom Park
The Crystal Palace was the favorite for both the girls because of the characters. Our daughter loved her GF/CF Mickey pancakes! She ate one, and then
requested another, which they made for her promptly.
Here is the rest of the plate from Crystal Palace: fruits, egg, and potatoes that tasted divine!
Pecos Bills
: lunch Magic Kingdom Park
Foolishly, we went at noon. You really MUST go early if you have special requests! The wait was SO LONG that it took almost an hour to get our
food, but it was almost worth it for our daughter to have a gluten free dairy free bun with her burger! She loved that!
Artist Point
: dinner Wilderness Lodge
Artist Point is a fine dining restaurant. We all loved our food. This is the buffalo with green veggies and sweet potato.
We also had gluten free chicken and white potato. It was all very good (especailly my daughter's chicken)!
Mara and other Stores in the Parks
Some common found snacks were these yummy rice treats, brownies, and nuts. We were able to get these at Mara as well as at many of the shops
Mara
: breakfast Animal Kingdom Lodge
Chef Eddie, at Mara, was wonderful. He made our daughter some gluten free dairy free waffles each morning, and he made me dairy free eggs served with fruit.
This was counter service so we purchased drinks and fruit separately. He was so nice, as were all of the chefs. He always came out to talk to
our daughter and to make sure she enjoyed her meal!
Rainforest Cafe
: lunch Animal Kingdom Park - not a Disney restaurant
The Rainforest Cafe at Animal Kingdom had gluten free bread on hand, as well as gluten free fries and other items. Here is what we chose.
We enjoyed this meal as well, although it did take a long time for the food to arrive. It was a fun place to wait.
Rengetsu
: dinner Orlando - Not part of Disney

At Rengetsu in Orlando (not disney) they took special care to bring us gluten and dairy free Nigiri. They subbed the sushi rice
(which is soaked in a sauce that could contain gluten) with gluten free. They used no sauces. Our daughter ate every bite and she loved it.
Liberty Tavern
: character dinner in Magic Kingdom Park
The Liberty Tree Tavern is another character meal and we had a great time there. The food was delicious Thanksgiving style.
They made some GF/CF mashed potatoes and gravy for us, as well as turkey, ham, roast beef. They cooked us separate beans in oil,
and they brought out gluten free rolls. We loved this place!
We celebrated a birthday at the Liberty Tree Tavern, so they brought us GF/CF chocolate cakes and rice dream to eat with the rest of our group.
Delicious!
Hollywood and Vine
: character lunch Hollywood Studios
Hollywood and Vine at MGM was fantastic. They had so many great veggie choices and the chef grilled salmon and steak for us too!
We enjoyed homemade gluten free brownies (made that day). They were so wonderful. This was another character meal with singing and dancing for
the kids. The food surprised us. It was wonderful! They also had gluten free rolls, which they brought out promptly.