It's true. I look at gluten free and dairy free pancakes as a free for all when it comes to gluten free flours. I have a basic formula I work with and it goes something like this:
3/4 cup rice flour
1/4 cup starch (tapioca or arrowroot)
1/4 some healthier grain
1/4 some other healthier grain
1 egg (or flaxseed egg replacer)
1 tsp baking powder
1 tablespoon oil (or two if you like)
1 cup almond or rice milk
Easy, right? So here is today's experimental batch:
Rice Tapioca Finger Millet Almond Flour Pancakes
Hmm....I think I'll need to come up with a better name.
3/4 cup rice flour
1/4 cup tapioca flour/starch
1/4 cup almond flour (or technically, almond meal)
1/4 cup finger millet
What is finger millet? Otherwise known as African Millet or Ragi (Indian Millet), it is still millet that will vary in color from brown to black and it lasts a very long time in storage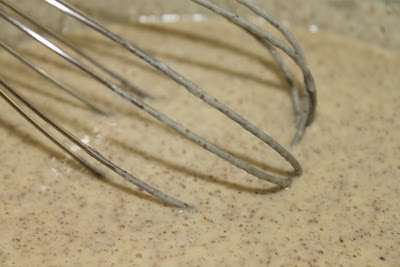 without insect damage, which makes it a popular crop for worldwide use. I find my Finger Millet Flour at the local Indian Food store. In fact, I find many great gluten free flours this way and the prices are very reasonable! The downside is that they almost all contain labels that say they are processed in facilities that also process wheat. So, for some this may not be an option.
Our batch of finger millet flour has plenty of specks of black, which you see in batter as the speckles.


A little fun fact about Finger Millet is that is has Methionine, which is lacking in diets of many vegetarians.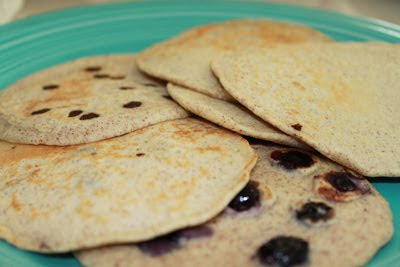 So, with our millet, we increase the iron, fiber, and protein in this batter. The almond flour / meal also increases our protein and fiber. Each of these grains has a unique nutritional profile that makes it valuable.
So, we tossed some blueberries in here....some mini chocolate chips in there and came up with some delicious pancakes to call our breakfast this day. This is a thinner pancake then some of our others, such as our Squash Pancake, seen below. The taste and texture were great, though. The blueberry version was my favorite.
I doubt I'll come to a final version of pancake recipe at any g
iven point in time because the pancake is a great place for me to test out all those wonderful gluten free grains and experiment with their cooking properties as well as to receive their nutritional value! Have fun in the kitchen and try adding in some coconut flour, almond flour, buckwheat flour, or another healthy booster to your pancake mix. Enjoy ~